Tim Rayner – One year as CEO
Press -- 24 July 2023
Author: Marketing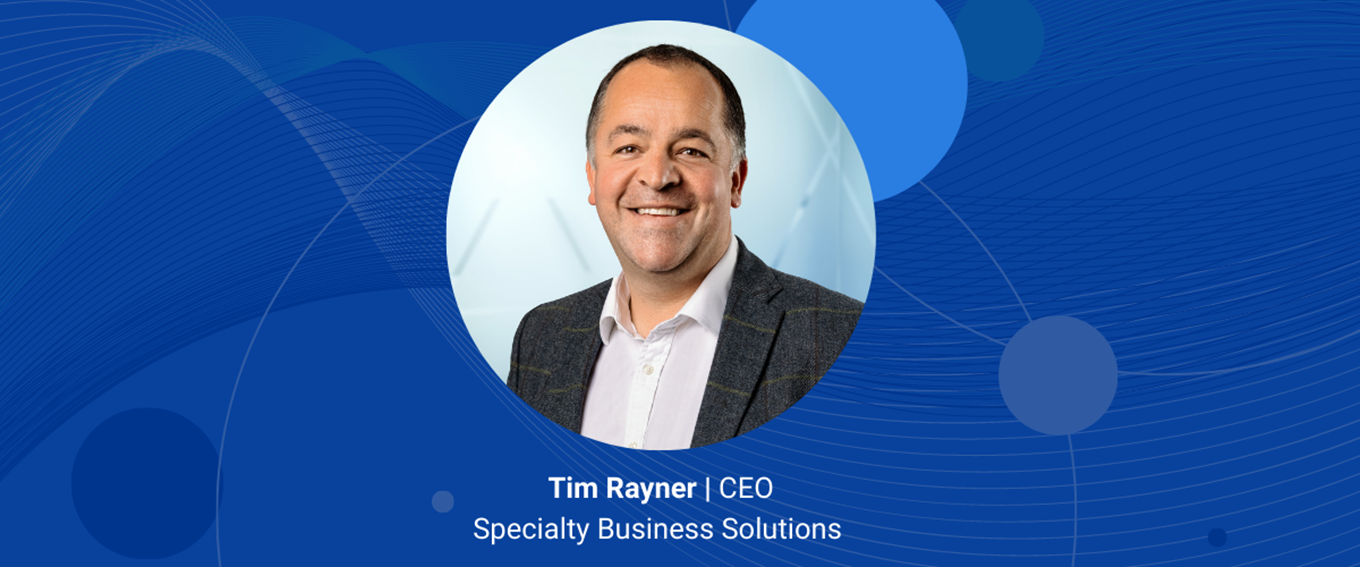 Tim Rayner is celebrating one year since his appointment as chief executive officer of Specialty Business Solutions at Verisk.  We caught up with Tim who shared his reflections on the past year.
Q: What are you most proud of this year?
A: There is a lot to be proud of. Over the past 12 months, the key move for us has been shifting the focus away from our products to our solutions.  Solutions solve clients' problems, whereas products – while useful – can put the problem solving emphasis on the client to work out what it can help them achieve. A great example of this is the integration of Whitespace with Rulebook to leverage the power of an enterprise rules engine with the leading data-first placement platform.
Welcoming Marsh, the largest insurance broker in the world, onto the Whitespace platform was a special moment this year. They are now one of a growing number of insurers and brokers who are embracing the opportunities the platform provides both for the London and global insurance markets. I'm proud of the work the team has been doing to promote the platform and to bring new clients into the fold.
And most recently, our acquisition of Morning Data stands out. This allows us to serve the small-to-medium end of the global specialty market more effectively and to make digital trading more accessible, ensuring that SME brokers are not overlooked or miss out on these new efficiencies.
Q: How has your role changed and developed this year?
A: On a personal level, my role has definitely evolved as I now sit on Verisk's senior operating committee and attend the quarterly board meetings. At a company level there has also been a lot of change. Over the course of 2022/23, Verisk sold all parts of the business apart from the insurance vertical, meaning we can now focus on the global insurance markets. By streamlining the business, we now have a much bigger role to play in helping Verisk achieve its corporate objectives of creating a global digital marketplace and enabling the global insurance sector to help the world become better, safer and stronger.
Q: What do you see as the biggest opportunities and challenges over the next year – for the company?
A: This goes back to our transition into focusing on solutions. As technology advances and the insurance industry evolves, there are more opportunities to leverage data to help customers make better decisions and improve efficiency.
Aligning our products effectively and bringing them together seamlessly in the background to make life easier for our clients is critical. We are building upon existing business solutions to bring ERC 2.0, Enterprise Exposure Manager, and Augmented Underwriting to the market.
As part of this, we're supporting the London market and beyond to capitalise on the power of the Whitespace platform. We've been given a remarkable opportunity to help brokers, insurers and reinsurers to leverage their distribution networks and capital much more effectively, through the provision of real-time data powered solutions. We are supporting our clients and the market with the adoption of initiatives being delivered by Joint Venture from Blueprint 2. This is ultimately helping the market digitise and modernise.
There are certainly challenges coming over the next 12 months and offering solutions to overcome those is a big opportunity for Verisk.
Q: How is Whitespace integrating with Verisk and how is that benefitting clients?
A: The power and potential of bringing together the leading digital and data-first placement platform and enterprise assets from Verisk such as Mozart, datasets such as Prometrix, and software solutions such as Rulebook is enormous. We are only really scratching the surface with the development of the first combined solutions that focus on algorithmic extensions for Whitespace to provide follow-underwriting for insurers and digital quota shares for brokers.
The biggest client and market benefit that comes out of the integration of Whitespace and Verisk is the access to data and APIs that support many different up and downstream uses for clients to integrate with and leverage the data-first power of the Whitespace platform.
Q: Are there any personal or professional highlights that stand out for you this year?
A: One of the standout highlights from this year was participating in the investor day for Verisk in March 2023. It was such a great experience and it helped me understand how Verisk operates globally and how they work with our key investors and financial markets. But overall, the promotion to CEO and being trusted to lead an already successful business into the next stage of our growth and evolution makes me immensely proud. I enjoy the challenge and opportunity each and every day.