Specialty Spotlight: Nick Ryall, Director of Analytics Solutions at Verisk Specialty Solutions
Blog -- 13 November 2023
Author: Marketing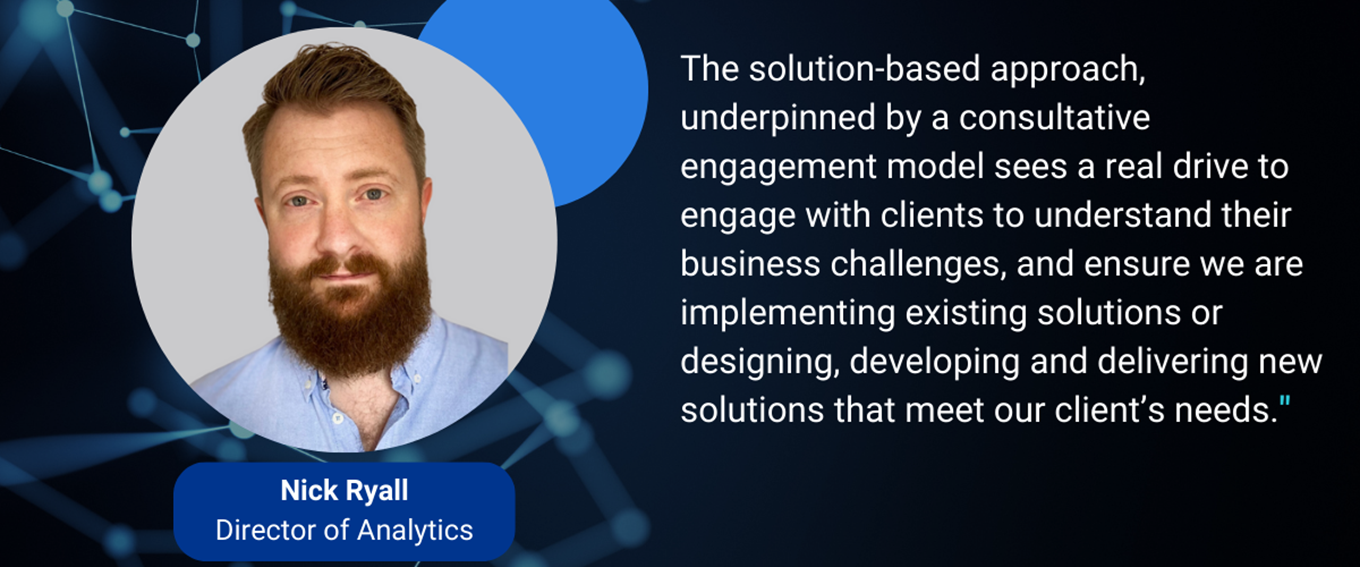 In the rapidly evolving insurance technology landscape, Verisk Specialty Business Solutions stands out as a leader, providing innovative data analytics and business intelligence solutions.
We recently had the opportunity to sit down with Nick Ryall, Director of Analytics Solutions at Verisk Specialty Business Solutions, to discuss his role, the company's recent restructuring, and their exciting new initiatives.
Nick has been with Verisk since the acquisition of Moore Stephens Consulting, and its Rulebook pricing and distribution solution, in 2018. As Director of Analytics Solutions, he oversees analytics, data warehouse, and business intelligence services and solutions.
His Specialty Business Solutions portfolio also includes Sequel Impact, a deterministic exposure management tool, an Enterprise Exposure Management (EEM) solution and Sequel AI, a new artificial intelligence and machine learning platform.
Nick has worked in the insurance industry since graduating university; working at AXA PPP and QBE before moving to Moore Stephens Consulting in 2011. In his 18 years working in the London Market, he has focused on business intelligence, data analytics and business & data transformation programs. Nick led the business intelligence practice at Moore Stephens Consulting before the acquisition by Verisk.
At Verisk, Nick's role has evolved along with the company's recent restructuring. This shift in focus takes a consultative approach to align existing products or create new solutions to serve and assist clients' specific business challenges.
This change has brought the appointment of new solution directors, with Nick being the first in situ from an analytics perspective.
"The solution-based approach, underpinned by a consultative engagement model sees a real drive to engage with clients to understand their business challenges, and ensure we are implementing existing solutions or designing, developing and delivering new solutions that meet our client's needs." Nick explains.


Augmented Underwriting and Harnessing AI
One of the exciting new initiatives Nick is overseeing relates to Sequel AI, a platform that uses artificial intelligence and machine learning to help clients make data-driven decisions. The platform is currently being used as a fundamental part of Verisk's Augmented Underwriting solution, which aims to facilitate straight-through underwriting.
Nick is quick to point out that the goal of AI and machine learning is not to replace human interaction, but to enhance it.
"There is an element of fear around AI and a misconception that computers will replace humans in the Insurance workforce. AI is a tool to augment human capabilities and humans are fundamental in the implementation, use and further advancements of AI driven tools.
From an analytics perspective, the opportunities are exciting, but we should also be cautious and not forget to focus on the data fundamentals -- if you feed it rubbish, you will get rubbish out.
We should be cautious with the use of AI, and its adoption should be controlled and measured.
This mirrors Verisk Specialty Business Solutions approach, where data security and transparent data decision making are paramount. Ensuring there is a human in the loop, with direct feedback interaction enforces a level of control and transparency, while also improving the validity of the model." he says.
Looking ahead, Nick and his team are defining the roadmap for next year. The focus is on ensuring that the new structure provides the platform to deliver analytical solutions that derive business insights the clients demand.
Nick's passion for data analytics and his dedication to his team and clients is evident. His leadership in Verisk's restructuring and the development of new initiatives like Sequel AI are sure to drive the company's continued success in the insurance technology consultancy sector.
As the insurance industry continues to evolve, Verisk Specialty Business Solutions, under the guidance of leaders like Nick, is well-positioned to assist clients and the market on their digital progress.