Verisk appoints Reid Stanway as Chief Digital Officer of Specialty Business Solutions
Press -- 17 October 2022
Author: Marketing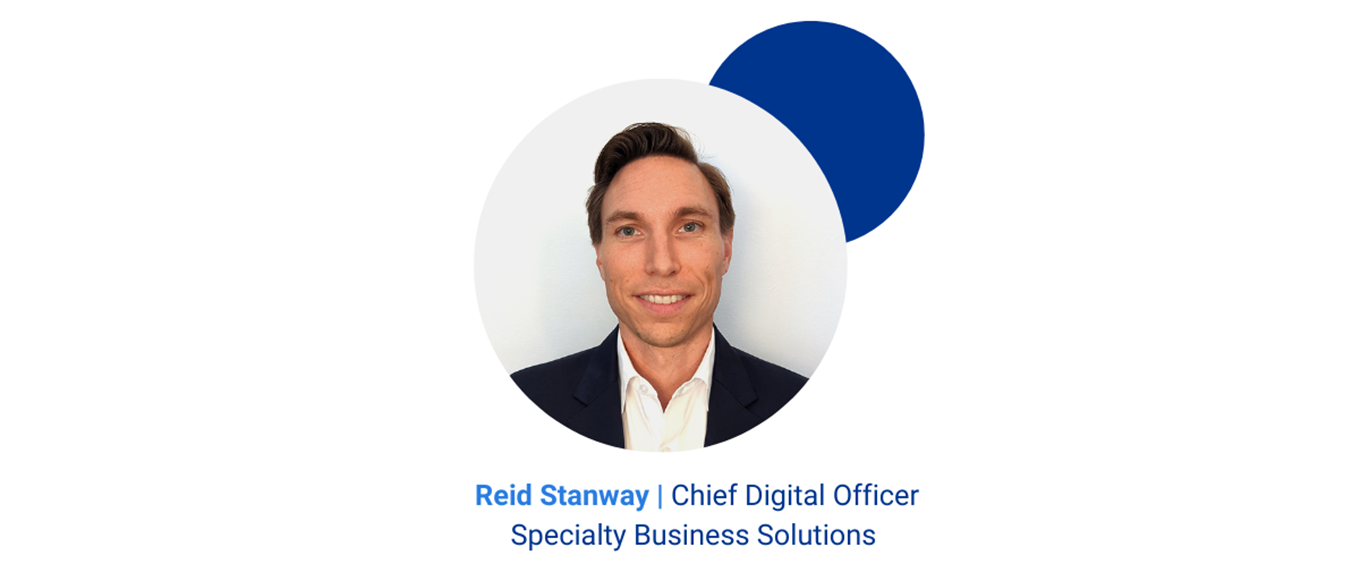 We are pleased to announce that Reid Stanway has been appointed Chief Digital Officer of Specialty Business Solutions.
With an impressive career spanning across the insurance industry, Reid joins the company from Marsh, where he most recently held the position of Digital Placement Leader. At Marsh, Reid worked with the global leadership team to define, lead and execute the business' digital trading strategy. He also created and scaled the company's in-house algorithmic insurtech 'Intuitive'. Throughout his tenure at Marsh, Reid held various leadership and strategy roles, as well as acted as an insurance broker in their Canadian offices for its large Mining, Oil & Gas, and Nuclear clients.
In his new role, Reid will work with insurance market participants to navigate the increasingly complex world of digital transformation and digital trading.
He will engage with insurance executives and business leaders in the design and build of their digital trading and transformation strategies by leveraging Verisk solutions. Part of this will involve articulating the benefits of investing in digital transformation to clients, colleagues and trading partners. Reid has a unique understanding of the solutions Verisk can provide, alongside what the rest of the marketplace can offer. Reid will have a direct reporting line into Tim Rayner, CEO and VP Verisk Specialty Business Solutions.
"We are delighted to welcome Reid to Verisk," said Tim Rayner. "He has built a stellar reputation in the market and his arrival is another major component in our strategy to accelerate our market-leading position. Companies across the industry are beginning to realise the huge benefits that data, analytics and seamless transactions can deliver, and Reid understands first-hand how to work with large multinational insurance businesses on executing these strategies. "
Verisk and Specialty Business Solutions are the number one and two most trusted brands in the London insurance technology market, according to the Independent Gracechurch Technology Monitor Report 2022. Verisk's strategic acquisitions of Whitespace, Rulebook and Ignite – combined with the recent creation of Sequel Hub – dramatically improve market participants' ability to digitally transform their businesses, financially engineer new insurance products, attract new capacity into the marketplace, better service clients and reduce business costs.
"I'm thrilled to be joining Verisk at such a dynamic time in the global (re)insurance industry, and in the London market in particular," explained Reid.
"The products that exist within Verisk are amongst the best I have seen around the globe, especially in the sphere of digital trading; yet it is the combination of the Whitespace platform, Sequel Broking, Verisk data sets, and Sequel Rulebook, with the newly created Sequel Hub, which truly make Verisk a gamechanger for our industry."
"We have so much potential to dramatically transform the industry, and it is truly exciting to now be able to do it within a realistic timeframe. The sum of Verisk's offerings has become an unbeatable toolkit for market participants, and I see it becoming the catalyst for catapulting the sector into systemic transformative change."
"I am genuinely excited to be a leading partner of our industry's transformation efforts and look forward to empowering brokers and underwriters as they aim to better serve the world's insureds, in ways we hadn't previously imagined."