Embracing a digital Lloyd's and London Market
Press -- 12 July 2023
Author: Tim Rayner for Insider Engage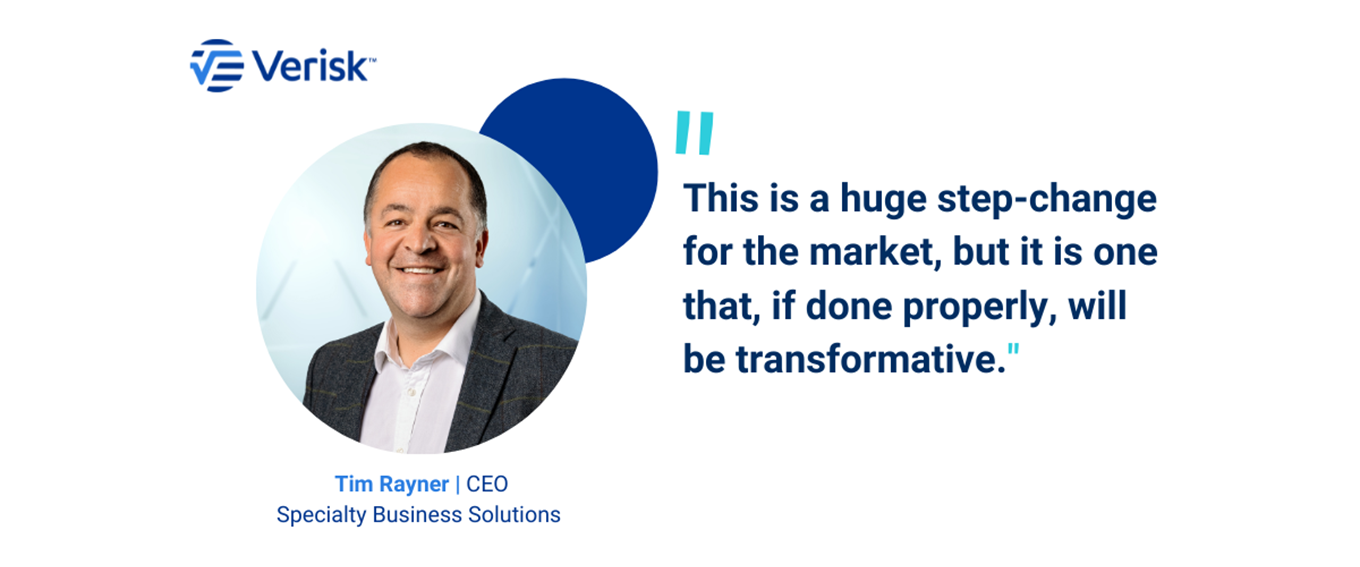 Much has been discussed about the transition of Lloyd's to a truly data-first, digital marketplace which is API-enabled, but what do we actually mean?
If this is still a document-centric process where data is manually inputted, often as part of a broader outsourcing initiative, can we really say that this is the sort of transformation the London market requires to move forward?
From the outset, Blueprint 2 and The Future of Lloyd's initiative have sought to create a digital future for the market, one which envisages a digital marketplace. And there can be no getting away from the fact that this must be data-first and API-enabled. However, if this is the market we are aiming for, we can no longer retroactively fit data into a document or a placing process. Everything must start with the data at the placing stage.
The market has come a long way, but there is a still a quantum leap that needs to take place to transition to a truly data-first marketplace. What has tended to happen historically is — I am sorry to say — simply no longer fit for purpose. Letting a broker create the placing slip, then having that go all through the market from the lead to the following markets, and then trying to scan that in and send it off to a third party to key the data in… is this a truly digital marketplace? Of course not.
Instead, I believe a digital marketplace is a data-first one and can only be based on data. Once you rely on a document, you have lost so much data and insight, which after all is what drives downstream synergies and efficiencies.
Transforming the market
This is a huge step-change for the market, but it is one that, if done properly, will be transformative. But it is also important to ensure that we have practitioners onboard. Many of them will be well used to previous transformation projects in recent years such as Project Darwin, LM TOM, and others. We all know these initiatives, and there is no doubt that fatigue has crept in. Some simply do not believe in it because they are not seeing any tangible benefits to the marketplace, but I would suggest that's because not everyone is really engaging at a fundamental level with the transition to a digital future, which is what Whitespace, now part of Verisk Specialty Business Solutions, does offer.
Fundamentally, Whitespace is a data-first placing and negotiation platform. The placing record that Whitespace revolves around is a data record, whereas other placing records in the market are based on a document. As you can see, this is a fundamental difference in approach. It really is chalk and cheese.
Of course, there are other elements to the current transformation process. Blueprint 2, for example, is also looking at the back-office rewrite of the Xchanging platform: post-bind accounting and settlement efficiency, in essence. And we at Verisk are heavily involved in that because we have many solutions in place with clients and we are fully supportive, though there are still some details that need to be ironed out in terms of what can be done and when, as you would expect.
A digital future
There is a much bigger picture at play. The key priority for practitioners right now must be to work towards that digital future for Lloyd's. If we don't do it together, and in a timely manner, then I fear that London's relevance as the leading marketplace for writing specialty risks will come under threat.
I understand that amongst some segments of the market there are still concerns when it comes to the transition to a data-first, digital market, but my message really is that we are in the midst of an evolutionary transformation of Lloyd's which underwriters and brokers can support with greater adoption of technology and data. However, if they do not ride the evolutionary wave, there is a risk of a revolution in which their role may be diminished.
I am not trying to downplay the role of human capital at all. We work in the specialty market, where - given the nature of the risks involved - knowledgeable brokers and underwriters who can understand and negotiate complex placements are absolutely invaluable. The experience that seasoned practitioners bring to the table, able to see the various permutations and combinations of risk, is unique in our market, and one in which Lloyd's continues to be a global leader.

That being said, my key message would be that the digital, data-first transformation of the market is both vital for the future of the industry and inevitable. Those who embrace this fundamental shift will have a significant advantage over those who don't. I encourage you to leverage the data so as to do more with what you have, and make use of the time that digitisation provides you with, seizing the opportunity to add value, progress forward and get on with doing the job you enjoy!
To read more from Insider engage click Here.
Related Product
Whitespace Platform
Digital trading platform for insurance and reinsurance business